Ray Bradbury passed away yesterday at age 91. Here's a reprint of my first blog post on billzam.com before it became zamblings.com.
Nov. 30, 2006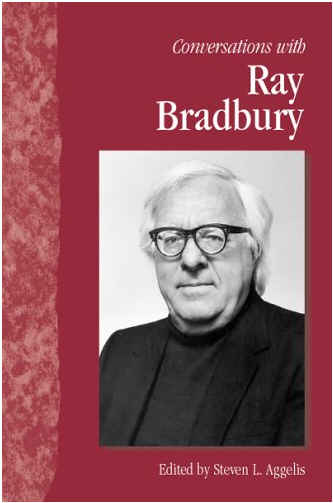 give us this day our daily B.R.E.A.D. (Bill, Ray, Edgar Allan and Dave)
"'And you, you're William…You write for the Chronicle, a good enough column. I've heard more about you than I'd care to tell.'"
-from Ray Bradbury's Dandelion Wine
Today's quote is an actual line spoken by the character Helen Loomis in Ray Bradbury's classic novel, in which the summer experiences of an extraordinary 12-year-old boy named Douglas Spaulding serve as a poignant metaphor for the crushing pain and exuberant pleasures bestowed on humans by the passage of time. Portions of the book were copyrighted as early as 1946, but as is so often the case, Mr. Bradbury appeared to be writing directly to me when I re-read the story this month.
Those that are familiar with my published writing might never expect me to cite Bradbury as my primary influence, nor would they necessarily think to hear Edgar Allan Poe and William Shakespeare on the same list. I've been compared to Dave Barry, the humor columnist/novelist/screenwriter famous for his quick-witted wordplay and bait-and-switch sentences. For those who have been kind enough to even mention my name in parallel with Barry's genius, I thank you.
In fact, there are many friends and family members I need to thank for motivating me to birth this Web site today. Since I'm still a little woozy from the labor pains (I wasn't offered an epidural), I won't try to list them by name here for fear of leaving somebody out. There will be other times for that.
However, I would like to honor the dead (Shakespeare, Poe), the dead-on (Bradbury) and the deadpan (Barry) for getting me to where I am today…my basement.
Admittedly, the basement isn't where I aspire to be, symbolically, but I am at my desk and I am writing. It's a start, and it wouldn't have happened without these guys.
I knew very early that I had an unusual appreciation for literature when I found myself laughing hysterically at Shakespeare while my peers threw aside the required reading in confusion and disgust. The horrifying tales of Poe twisted my insides and filled my brain with wonder at the depths of the devious human mind. And Barry? If you've read anything else on this site, you can see that I certainly share his penchant for a mix of scathing satire and self-deprecating humor. What all these writers have in common is the power to make you FEEL. To laugh, to cry, to quake with fear, sometimes all at once.
Still, it was fantasy writer Ray Bradbury that really revived my own fantasy of becoming an author. When I turned 30, I promised myself that I would stop talking about being a writer and actually do something about it before I was 40. Shortly thereafter, I read Bradbury's non-fiction book Zen in the Art of Writing, and I was stricken once again with the fever to chase the dream that began, oddly enough, when I was Douglas Spaulding's age and a teacher dropped a Bradbury novel on my desk.
Motivated by Zen, I wrote to Mr. Bradbury to thank him for his inspiration, which lay dormant for years but seemed now to be calling me back. Wouldn't you know it? I got a letter. For real this time, Ray Bradbury was writing directly to me. He thanked me for the compliments I had given him and offered a few of his own that spurred me on to keep pursuing my "writer-by-40″ goal.
I hope you'll find in reviewing these pages that I've gotten a pretty good start on the 10-year plan. Today, Nov. 30, Bill Zam turns 35 and billzam.com is born.
Hello, my name is William. I write for the Chronicle. And I hope you'll indulge me one more quote, from page 92 of my well worn, 35-year-old copy of Dandelion Wine:
"Abracadabra-zimmity-ZAM! How's that?"